Here at Gypsy Horses Worldwide, we Pride ourselves in offering only the top of the line Gypsy Horses/Irish Cobs. Although we love and enjoy all breeds of horses, we believe that the Gypsy Horses/Irish Cobs is an absolutely wonderful horse that not many other breeds can compare to. A true family horse for all ages they will steal your heart!!!!!!! Let us help find you that special horse that will be your friend for a lifetime.
Check out the new arrivals, below.
Click to make this site your first

site so you will never miss a great Gypsy Horse again
This Page was last updated on August 15, 2006
All of our horses come with a brand New pre-purchase exam
Irish Tinker Stables, Netherlands Gypsy Horses Worldwide, USA
Presents:
O'Malley
Meet O'Malley, a tri color stallion with legs as hard as a rock! O'Malley is heavy-build and most of his offspring are also very big, heavy-build and nicely colored. O'Malley has a withers height of 1.64 meters and he was born in 1994. He is ridden in Western style and has very smooth movements. O'Malley is approved by the ICS . He became STER in 2003 !! ( ster =2x 1st premium )- Supreme stallion, with incredible mane, feathering. His character is docile, kind.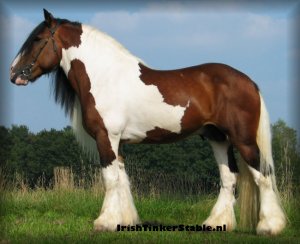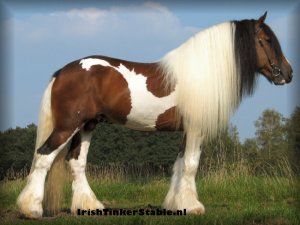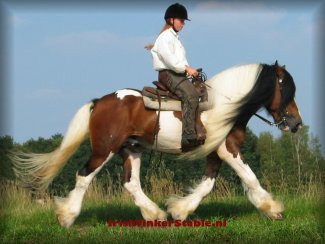 Teagun

Click photo for more photos

Kane Fan Kilewier

Click photo for more photos

* 2006 Irish Cob filly

*JUST GORGEOUS

*DOB-May 6, 2006

*Teagun, means Beauty in Ireland

*Sire is Rocky Mountain

*Will mature to 14.3- 15 hands

*Is handled everyday, knows everything about the farrier, leading so on.

*Super character

*Will make a super breeding mare.

*One of the most gorgeous fillies I have seen!

*Very sweet

* 2006 Irish Cob colt

*DOB-June 14, 2006

*Beautiful!

*absolutely adorable

*Sweet, easy character

*HUGE- Will be least 16.3 hands

*Sire is Baxter stallion, son of Thunder

*Very sweet
Gypsy Horses Worldwide
Importing and Shipping Quality Gypsy Horses all over the World.
Pam Gish
Baldwin City, KS
785-423-4024
Please Leave Message
Home/Signature/For Sale/Friesian Info/News/Semen/Stallions
Mares/In Memory/Photo Gallery/Gypsy Horses/Email
© Copyright 2002-2005 Signature Friesians. All Rights reserved.